Thomas R. Kimball, New Inductee into Nebraska Hall of Fame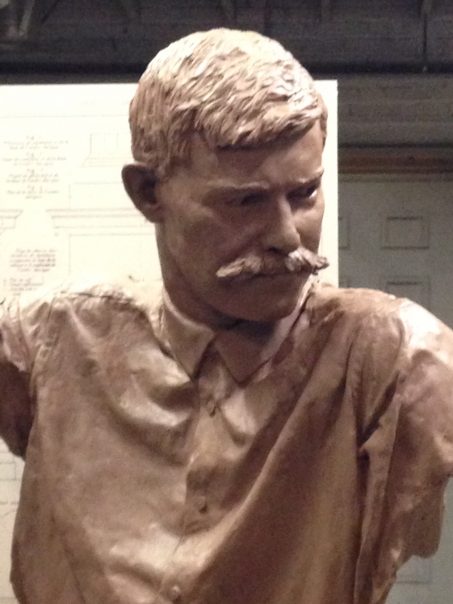 The Thomas Kimball Bust selection committee has chosen the sculptor, John Lajba, from Omaha to design and sculpt the life-size bust of Kimball. His bust will be located in the Nebraska State Capitol along with twenty-five other famous Nebraskans, including William Jennings Bryan, Chief Standing Bear, Willa Cather, and others.
Firms and individuals will soon be contacted for donations to assist with raising $35,000 for the design and construction of the bronze bust.
Donations should be made to the Architectural Foundation of Nebraska, 335 N. 8th Street, Ste. A, Lincoln, NE 68508. Online Donations can be made via Paypal or contact Sara Kay, sara@aiane.org, (402) 858-1929. Your generosity is greatly appreciated.
Thomas Rogers Kimball (April 19, 1862 – September 7, 1934) was an American architect in Omaha, Nebraska. An architect-in-chief of the Trans-Mississippi Exposition in Omaha in 1898, he served as national President of the American Institute of Architects from 1918–1920 and from 1919-1932 served on the Nebraska State Capitol Commission.
Kimball was credited with pursuing 871 commissions, which included designing 167 new residential buildings and 162 new non-residential structures, served as architectural adviser to commissions responsible for erection of Missouri and Nebraska state capitols, the Kansas City Liberty Memorial, and the Indiana state war memorial in Indianapolis, and was member of national council of fine arts established by U.S. President Theodore Roosevelt to evaluate all plans for public buildings, monuments, and statutes.
Thank you to our major gift donors:
Architectural Foundation of Nebraska
AIA Nebraska
AIA Lincoln
AIA Omaha
Alley Poyner Macchietto Architecture
Alvine & Associates, Inc.
Avant Architects
BVH Architects
Catholic Archdiocese of Omaha
DLR Group
HDR Architecture
Kiewit Corporation
Leo A Daly
Nebraska Arts Council
RDG Planning & Design
Sinclair Hille Architecture
Studio 951, Inc.
The Clark Enersen Partners
Deon Bahr, FAIA
Gary Bowen, FAIA
Bruce Carpenter, AIA
Edward & Joni Fogarty
Dale L. Gibbs, FAIA
Bob Ripley, FAIA
150@150: Nebraska's Landmark Buildings at the State's Sesquicentennial

150@150: Nebraska's Landmark Buildings at the State's Sesquicentennial by historian Jeff Barnes is a celebration of the built world of Nebraska in its 150th anniversary of statehood. This colorful, richly photographed collection includes the earliest buildings constructed by newcomers to the territory, its most recognizable landmarks, and the newest and most dynamic structures designed by the architectural firms of today. Available for purchase, the book is presented by the Architectural Foundation of Nebraska and the American Institute of Architects, Nebraska Chapter.  Read More >
Architectural Foundation of Nebraska
Architects are making significant contributions to society in a time of environmental concerns, changing demographics, natural resource limitations, and new technologies. The Architectural Foundation of Nebraska is dedicated to promoting these contributions, increasing architectural excellence, and enhancing the public perception of architecture in Nebraska. Your support of the Foundation enables our profession to do more effectively these tasks not easily accomplished individually.
A special message from the Board of Directors
Young people entering the design professions are in short supply, partially due to a lack of awareness of the satisfaction derived from participating in the development of the built environment. The Architectural Foundation of Nebraska seeks to demonstrate, educate, encourage and support the interest of students, their families and the public at large in the appreciation of architectural excellence.
What is the Architectural Foundation of Nebraska?
The Architectural Foundation of Nebraska is a 501 (c)3 non-profit corporation in the State of Nebraska organized in 1981 exclusively for charitable and educational purposes. The Foundation's mission is to inform the people of Nebraska of the importance of their environment and the value of architecture, and to raise awareness of the long-term impact of architecture as a signature of culture.
What does the Architectural Foundation of Nebraska do?
The Architectural Foundation of Nebraska provides and supports:
Community based programs for the general public including exhibitions, tours, lectures, publications, media productions and recognitions of excellence that further our mission.
Architectural education enrichment programs in public and private schools.
Scholarships for high school students who are current applicants to the University of Nebraska College of Architecture.
Practice based and practice oriented research.