Nebraska Hall of Fame: Thomas Rogers Kimball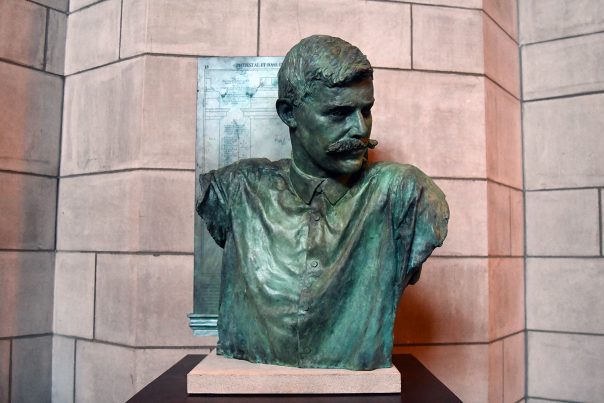 Bust of Thomas Rogers Kimball. Photo: History Nebraska
Thomas Rogers Kimball (April 19, 1862 – September 7, 1934) was an American architect in Omaha, Nebraska inducted into the Nebraska Hall of Fame on June 25, 2019. See feature from History Nebraska.
An architect-in-chief of the Trans-Mississippi Exposition in Omaha in 1898, he served as national President of the American Institute of Architects from 1918–1920 and from 1919-1932 served on the Nebraska State Capitol Commission.
Kimball was credited with pursuing 871 commissions, which included designing 167 new residential buildings and 162 new non-residential structures, served as architectural adviser to commissions responsible for erection of Missouri and Nebraska state capitols, the Kansas City Liberty Memorial, and the Indiana state war memorial in Indianapolis, and was member of national council of fine arts established by U.S. President Theodore Roosevelt to evaluate all plans for public buildings, monuments, and statutes.
Nebraska Hall of Fame welcomes Thomas Rogers Kimball >
By U.S. Senator Deb Fischer, June 25, 2019
Thank you to our major gift donors for the design and construction of the bronze bust:
Architectural Foundation of Nebraska
AIA Nebraska
AIA Lincoln
AIA Omaha
Alley Poyner Macchietto Architecture
Alvine & Associates, Inc.
Avant Architects
BVH Architects
Catholic Archdiocese of Omaha
DLR Group
HDR Architecture
Kiewit Corporation
Leo A Daly
Nebraska Arts Council
RDG Planning & Design
Sinclair Hille Architecture
Studio 951, Inc.
The Clark Enersen Partners
Deon Bahr, FAIA
Gary Bowen, FAIA
Bruce Carpenter, AIA
Edward & Joni Fogarty
Dale L. Gibbs, FAIA
Bob Ripley, FAIA