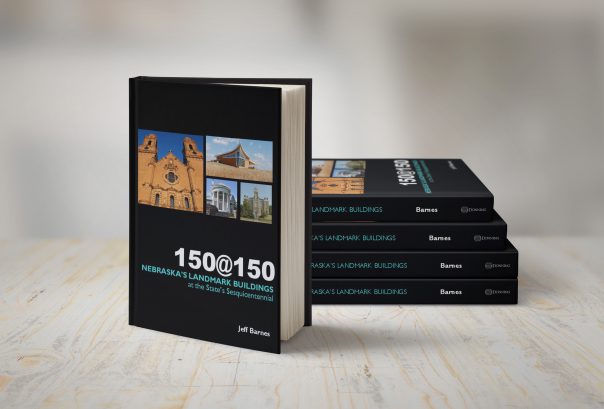 150@150: Nebraska's Landmark Buildings at the State's Sesquicentennial by historian Jeff Barnes is a celebration of the built world of Nebraska in its 150th anniversary of statehood. This colorful, richly photographed collection includes the earliest buildings constructed by newcomers to the territory, its most recognizable landmarks, and the newest and most dynamic structures designed by the architectural firms of today. The book is presented by the Architectural Foundation of Nebraska and the American Institute of Architects, Nebraska Chapter.
"The architecture of Nebraska tells the history of the state," said Barnes. "You can see the boom-and-bust periods, the arrival of various ethnic groups, and the impact of world wars." Some of America's greatest architects – from Frank Lloyd Wright to I. M. Pei – also left their mark on the state and are presented. The book also features Nebraska architect Thomas Rogers Kimball, the designer of some of the state's most prominent buildings including St. Cecelia's Cathedral in Omaha, the Hall County Courthouse in Grand Island, and the Burlington Station in Hastings.
Several signings are scheduled for the book's release. Books may be purchased at signings as well.
Visit www.jeffbarnesauthor.com for the schedule of upcoming signings.
Available Retail Locations
Barnes & Noble, Crossroads Mall, Omaha
Barnes & Noble, Oakview Mall, Omaha
Barnes & Noble, 51st & O, Lincoln
Book Peddler, Ainsworth
Durham Museum, Omaha
Fort Cody Trading Post, North Platte
Francie & Finch, Lincoln
Hastings Museum, Hastings
Joslyn Art Museum, Omaha
Landmark Store at the Capitol, Lincoln
St. Cecilia Cathedral Museum Shop, Omaha
The Bookworm, Omaha
The Plains Trading Company, Valentine
Willa Cather Foundation Gift Shop, Red Cloud
Make sure to like "150 at 150: Nebraska's Landmark Buildings" on Facebook!