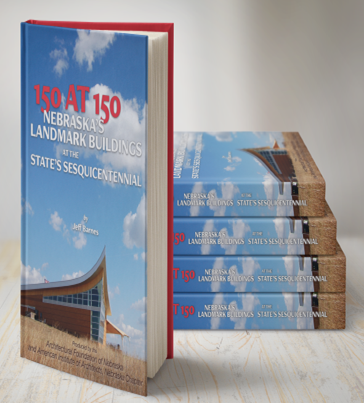 The Architectural Foundation of Nebraska and American Institute of Architects, Nebraska Chapter is sponsoring, "150 at 150: Nebraska's Landmark Buildings at the State's Sesquicentennial", now in research and writing by Nebraska author Jeff Barnes. The publication is a celebration of noted structures of the state which have survived to our 150th anniversary of statehood. The book is scheduled for a November 24, 2017, release.
The information and images for this book will be compiled from various private collections and archives, interviews, and site visits.  The author, Jeff Barnes, has written and published five books of Great Plains history, is a humanities speaker and independent historian.  The book will be promoted and marketed throughout Nebraska through museums, libraries, community foundations and organizations, book and gift shops, historical sites and to other related sites and groups. Barnes will also present via Humanities Nebraska a PowerPoint lecture in promotion of the book to communities throughout the state. The Donning Company Publishers is our publisher.
How can you participate?
The Architectural Foundation of Nebraska is seeking donations for the book with different levels of support available. See Sponsorship Commitment letter. We are working with Barry Haire, of Midwest Writers Group, in securing funding; Barry will be reaching out to AIA Nebraska members and others. If you are interested in being a sponsor feel free to reach Barry directly: dbarryhaire@gmail.com or 402-575-0670.
A reminder: The Architectural Foundation of Nebraska is a 501c3 non-profit organization. Your contribution, which is tax deductible, will greatly further the success of this project and support the Foundation's mission.
Thank you for your consideration in supporting this wonderful project that captures the culture and essence of our architecture environment in Nebraska over the last 150 year.
Make sure to like "150 at 150: Nebraska's Landmark Buildings" on Facebook!