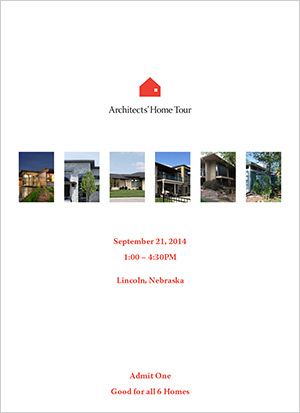 The 2014 Architects' Home Tour, sponsored by the Architectural Foundation of Nebraska and AIA Lincoln, was held Sunday, September 21, 2014.  This year's Tour was a huge success!
Thank you to all the home owners, architects, sponsors, and volunteers, without whom the Tour could not happen.  Our Home Team planning committee worked very hard beginning in the spring to make sure the Tour would feature wonderful homes and go smoothly.  We had a lot of great publicity, including a wonderful article in the Lincoln Journal Star and interviews on local TV stations KLKN channel 8 and KOLN/KGIN channels 10/11.
It was very exciting to see crowds of people excited about architecture and these beautiful homes, and overhear comments from visitors.  My favorite comment was, "This house is a poem."
The next scheduled tour will be held in the fall of 2016.  You can go to the 2014 Home Tour website, or view the Journal Star article (page 1) and (page 2).